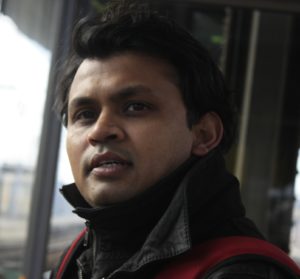 Contact Details
Email address
Office
P4.55
Mailing address
Sanjay Rawat
Faculty of Science
Dept of Computer Science
Vrije Universiteit Amsterdam
De Boelelaan 1081A
1081 HV, Amsterdam
The Netherlands
My research interests include:
Static & Dynamic Security Program Analysis
Intelligent fuzzing using evolutionary algorithms
Vulnerability analysis
Intrusion detection/prevention systems
Machine learning and data mining in security
Autonomic security and artificial immune system
Apart from above, I also take interest in other aspects of network security, including secure network design, firewalls etc.
Selected Publications
516927
KX4QJH9S
type_top
Rawat
items
1
date
desc
title
S. Rawat
Profiles
Professional Affiliations:

Postdoc Researcher at Vrije Universiteit, Amsterdam, NL (July 2015 – )
Assistant Professor at IIIT, Hyderabad, India (Feb 2014 – )
Associate Professor at VNR Vignana Jyothi Inst of Engg & Tech., Hyderabad India (August 2013 – Dec 2013)
Postdoc Researcher at Verimag/LIG, Grenoble, France (Dec 2009 – May 2013)
Senior Research Associate at Infosys India Pvt. Ltd, Hyderabad, india (Dec 2007 – Oct 2009)
Postdoc Researcher at Trento University, Trento, Italy (March 2007 – October 2007)
Security Research Engineer at Intoto (now part of FreeScale) Softwares India Pvt ltd, Hyderabad, india (June 2005 – Feb 2007)
Project Fellow at Institute of Basic Sciences, Agra, India (July 1999 – Dec 2000)
Community Service:

PC member Eurosec 2017
PC member GreHack, Grenoble, 2016
Poster Chair RAID 2015
Reviewer for The Journal of Systems and Software, Elsevier.
Reviewer for Information Sciences, Elsevier.
PC member of 3nd GreHack, Grenoble, 2013.
PC member of 2nd GreHack, Grenoble, 2012.
PC member of International Conference on Information Systems Security (ICISS 2008), India
Teaching
Secure Programming: undergrad, VU, Amsterdam (2016)
System & Network Security: undergrad/postgrad, IIIT-H, India (Winter 2015)
Advanced computer networks: undergrad/postgrad, IIIT-H, India (Monsoon 2014)
Computer systems organization: undergrad, IIIT-H (Winter 2014/2015)
Research topics in Information Security: postgrad (specialization in security), IIIT-H, India (Monsoon 2014)
"Principles of Information Security": MTech in Computer networks & information security, at VNR VJIET, Hyderabad. Course info is available here.
Code Optimization and Code Generation (Sharing Programming Languages and Compilers,MOSIG with Ylies Falcone.)
In the past, I have taught:

Cryptography and Number Theory (1999-200)
Network Security -Firewalls and Intrusion Detection (2002 -2003).